A COVID-19 Story in Three Acts: The Origin of the LAUSD-Skyhook Eco-Vans
February 25, 2021
/
/
Comments Off

on A COVID-19 Story in Three Acts: The Origin of the LAUSD-Skyhook Eco-Vans

Dear Friends,
Amidst the tragedy and uncertainty of the past year, we are thankful for all the amazing individuals in our sphere who are coming up with creative new approaches for engaging students in safe, in-person outdoor learning.
This week, we are sharing an article written by Gerardo (Gerry) Salazar, administrator for the Office of Outdoor & Environmental Education for the Los Angeles Unified School District (LAUSD). In his article, Gerry describes an innovative program that uses Eco-Vans to take science to students in Los Angeles recreation centers and parks. We are pleased to be working with Gerry on the National COVID-19 Outdoor Learning Initiative.
---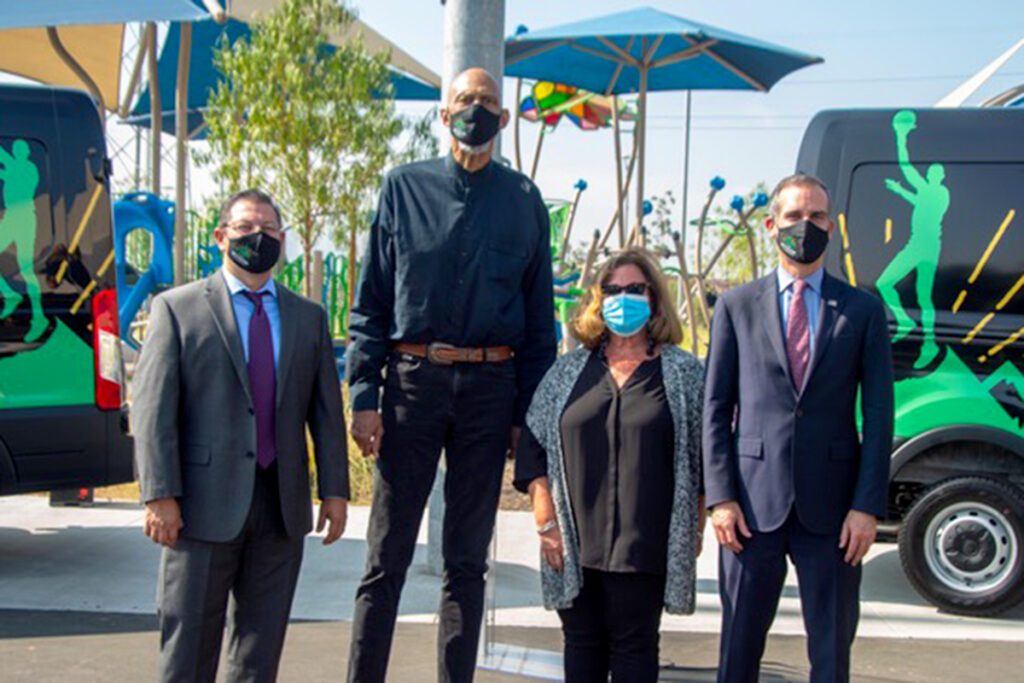 A COVID-19 Story in Three Acts: The Origin of the LAUSD-Skyhook Eco-Vans
Prologue: Costa Rica
Early morning walks to meet the preschool microbús are my earliest memories of engaging the natural world. The sun was usually bright, but the pavement was wet from the predawn rain that routinely showered our suburb in San José, Costa Rica. My grandmother and I looked forward to poking the open dormilonas (Mimosa púdica) that grew in front of the bus stop and watching them close their leaves. Grandma, seldom missing Sunday Mass, always found a way to explain nature as it connected to the divine. Read more here.
---

---
New Resources & Webinars
Lawrence Hall of Science's Environmental Literacy Curriculum Connections resources are now available! They help teachers identify curriculum units that emphasize environmental concepts, help school partners offer outdoor programming connected to science learning, and support plans to return to safe in-person learning by maximizing time outdoors.
Open Up Resources is launching a Leading with Equity webinar series, designed for educators seeking educational equity in their environments. Led by Dr. Kristopher J. Childs and Traci Davis, participants in the series will learn to become equity-focused, culturally relevant, anti-racist educators.
New Scholarship Opportunity
To increase opportunities to bring design tools to more diverse communities, our friends at the Stanford d.school are offering 15 scholarships for individuals working to impact issues of diversity, equity, and inclusion. Awardees of these scholarships will have an opportunity to attend Stanford's Design Thinking Bootcamp at no cost. To apply, send an email with a proposal that answers:
How you imagine design tools could be used to help issues of diversity, equity, and inclusion in a specific community.
How you have worked with the community you are engaged with in the past.
How you plan to work with them in the future.
Ideas for ongoing engagement of how the d.school and d.school design tools can support your work in the future.
Whether you would like to attend March, July, or September Virtual Design Thinking Bootcamp.
---
Invest in Environmental Literacy
Our community of funders believes in the power of environmental literacy. A gift to Ten Strands is an investment in the partnerships and strategies that will bring environmental literacy to California's 6.2 million K–12 students.