Kareem Abdul-Jabbar emphasizes education during Q&A session with Milwaukee youth groups
March 3, 2018
/
/
Comments Off

on Kareem Abdul-Jabbar emphasizes education during Q&A session with Milwaukee youth groups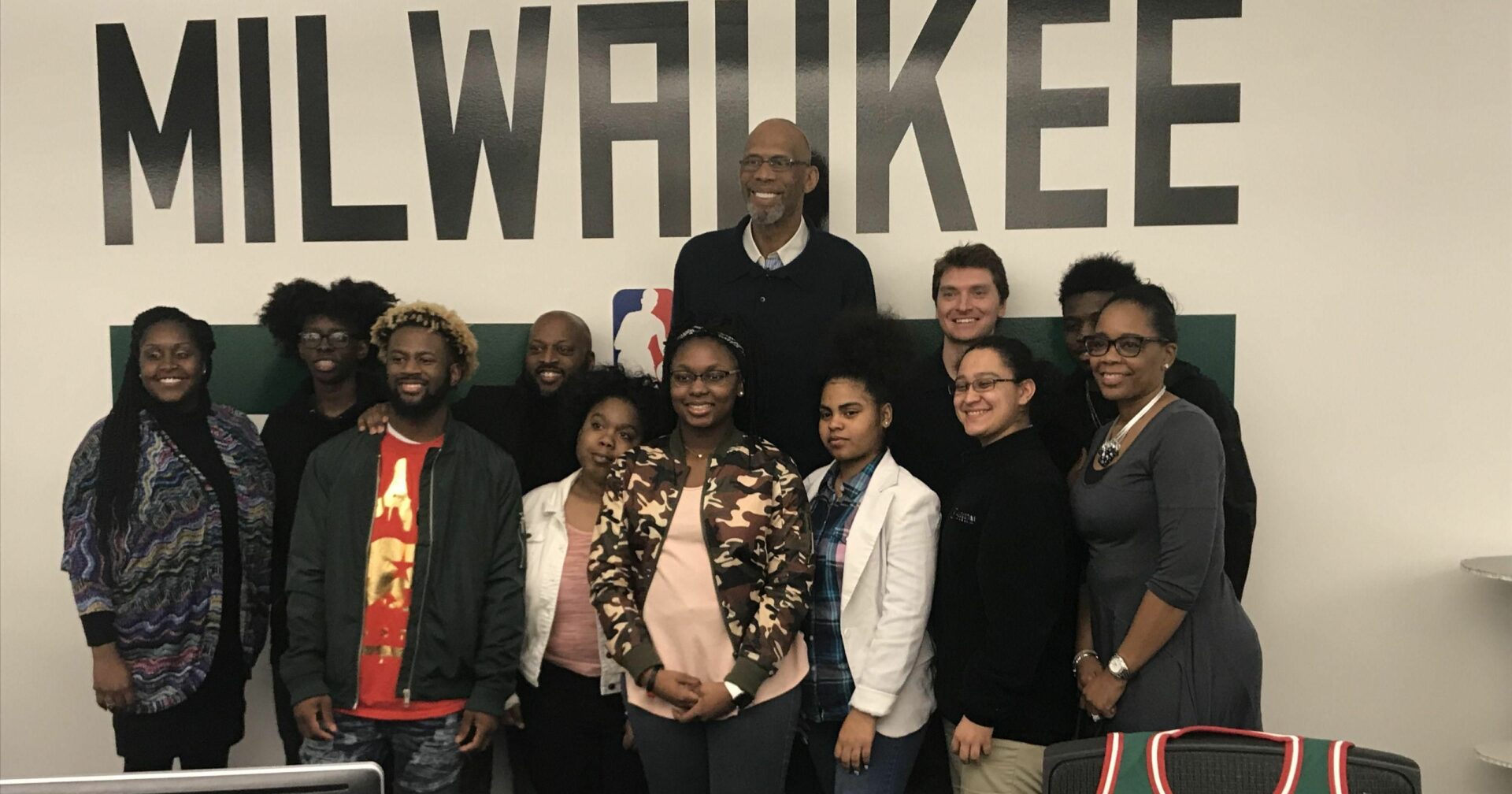 <![CDATA[
Kareem Abdul-Jabbar was always more than just a basketball player and he has proved that time and time again over the years.
The NBA legend has been a New York Times best-selling author on multiple occasions, an ambassador for education and a filmmaker. He started a foundation that sends kids to STEM camp. He regularly writes columns for The Guardian.
More than 30 years after he scored his last point, the former Milwaukee Buck and Los Angeles Laker has remained active and relevant.
His keys to success?
"There is only one key to success, oh well, there's two," he said during a visit with Milwaukee-area youth Tuesday evening. "Being a good moral person and having an education. That will get you to be successful. That's all it is. Be honest, be straightforward and spend some time in the books and know what you're doing."
Abdul-Jabbar spent about 35 minutes having a question-and-answer session that touched on his playing career and memories of his days in Milwaukee, the significance of race in this country and gun control.
The foundation of his message, however, was to reinforce the importance education plays when it comes to achieving one's goals.
"Figure out what your interests are. Stay in school. Get those good jobs. Be good to your family," he said. "That's what it's all about. It's all about family and community. When you have the ability to support yourself with a good job, you can do whatever you want for yourself and your family."
Abdul-Jabbar was back in Milwaukee for the second straight month. In January, he toured the Bucks' new arena and visited City Year Milwaukee's mid-year summit.
This time he spent time with members of Lead2Change and Teens Grow Greens, two youth community organizations, and attended the Bucks game against the Washington Wizards.
Abdul-Jabbar will be back in May when he will be the guest speaker at the Journal Sentinel Sports Awards sponsored by Aurora Sports Health, which will be held May 14 at the Pabst Theater.
The show will award athletes of the year in every WIAA sport as well as honor athletes who have returned from injury and those who inspire us through their ability to compete. The I AM SPORT Award presented by the Milwaukee Bucks will recognized athletes who are committed to giving back to youth in their communities.
In that vein, Abdul-Jabbar founded the Skyhook Foundation, which brings STEM (science, technology, engineering and mathematics) opportunities to under-served communities. About 80 kids each week attend the camp.
"We do fourth- and fifth-graders, but it enables them to get an idea of where the jobs are because if they don't start thinking about that at that age, peer pressure and popular culture are going to get them to thinking they need to be Beyoncé or LeBron or Denzel in order to make it in life," he said.
"You don't have to do that. All you have to do is pay attention in chemistry class. Pay attention in math class. You'll be able to get a great job and do the things you want to do."
Read more at Jsonline